LOBSTER & SPAGHETTI "JOE BEEF" STYLE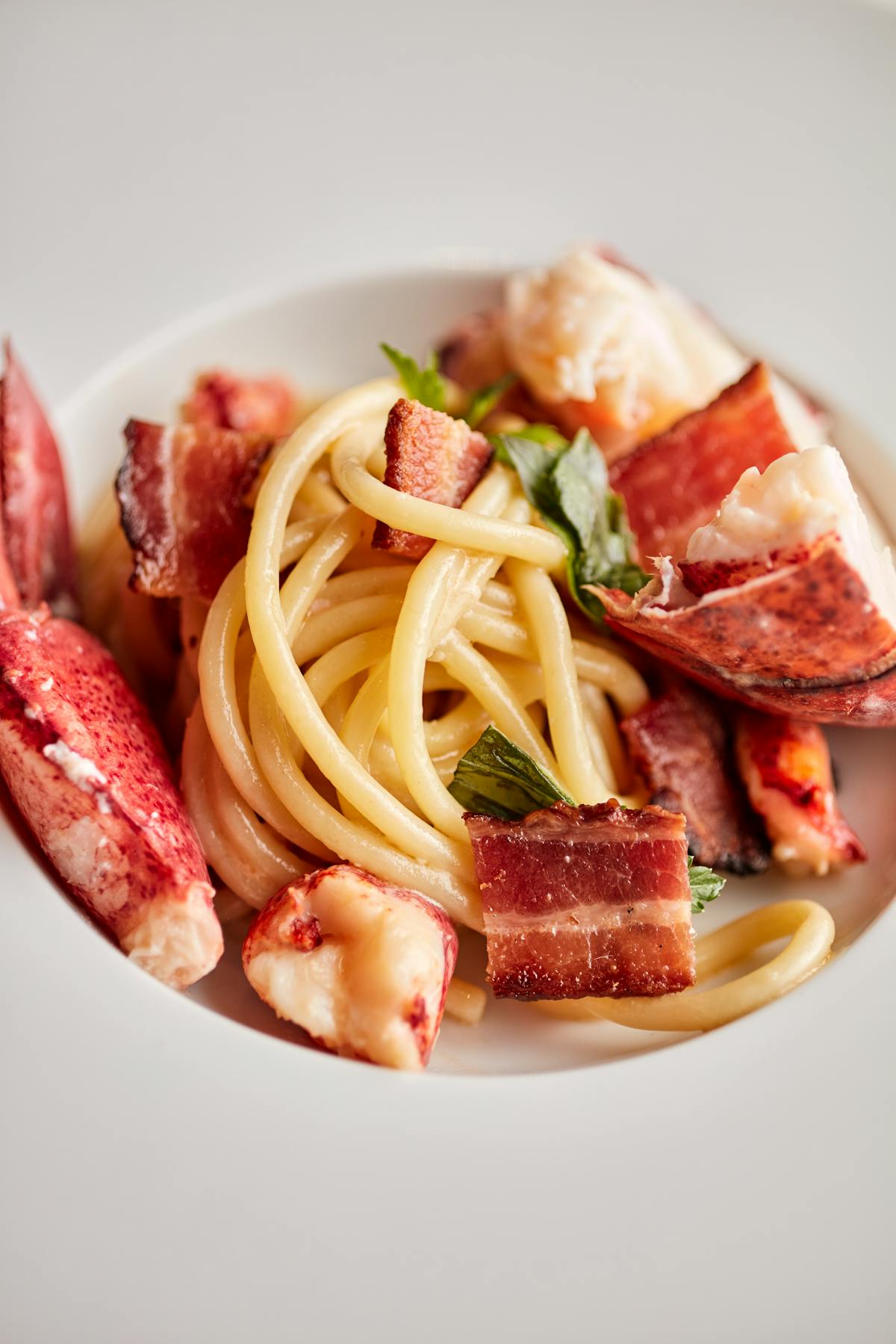 Chef Sawyer's "Joe Beef style" lobster and spaghetti pays homage to the renowned Montreal establishment, a favorite of many for its indulgent and celebratory attitude. Here, we're adapting our recipe to feature bucatini for the best absorption of the sauce.

INGREDIENTS
Spaghetti
10 oz dried bucatini pasta
1/4 cup crispy bacon lardons
1 tbsp fresh tarragon leaves
1 whole lobster tail, claw and knuckles (trimmed and split, shell on)
1 ½ cup cognac cream lobster broth
1 tbsp butter
Salt to taste
1 tsp cognac, Remy
Cognac Cream Lobster Broth
1 lobster body (aka torso) and all shell trimmings
2 cups water
2 cups heavy whipping cream
2 tbsp cognac
Salt to taste
INSTRUCTIONS
Cognac Cream Lobster Broth
Prepare your lobster. Cleave off knuckles, claws and tails all separately and split the body and clean thoroughly (remove and reserve the tomalley).
Blanch the lobster meat first (2 minutes for knuckles, 4 minutes for tail, 7 minutes for claw) and shock cool them in ice water or freezer.
Remove knuckle entirely from the shell. Leave approximately 40% of the bottom shell on and tail (cut in half and remove all flippers, cut across bottom of tail & remove vein). Reserve for pasta.
In a stainless steel pan, over high heat, add butter, salt and shells. Sauté covered until all are cooked and red, approximately 5 minutes.
Add the cognac and reduce by 3/4.
Add the cream and water and bring to the boil. Maintain a medium high temperature to a simmer for 15 minutes, to reduce by half and yield 1 cup for the pasta sauce.
Strain through fine mesh, blend and taste for seasoning.
Add lobster meat, cover and keep warm.
Spaghetti
Place pasta in salted boiling water for 13 minutes or until appropriate doneness is achieved.
Strain pasta and toss the warm lobster meat and cream, stirring over low heat to combine. Add half of the tarragon and bacon, along with all of the cognac and butter.
Taste for seasoning.
Plate and garnish with the bacon, tarragon, lobster claw and tail.