Smoky Peach Confit Chicken Wings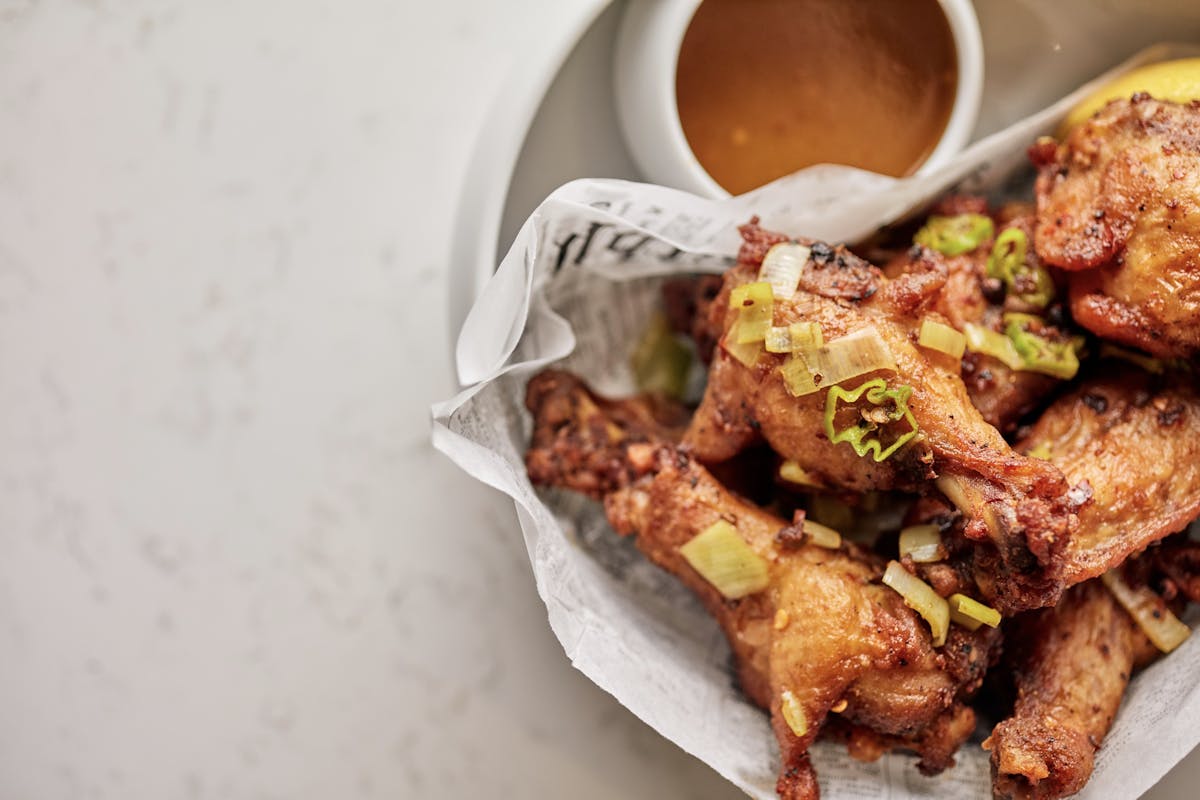 The inspiration behind Chef Jonathon Sawyer's take on this decades old classic is Parisian bistro duck confit meets mid-west Americana buffalo chicken wings. The result is crispy skin and rich fall-off-the-bone tender meat. Start your prep early to enjoy by the big game day! If you're short on time, you can always skip the confit, and just make the sauce.

Makes 4-5 servings
INGREDIENTS
Sauce
4 fresh peaches or stone fruit of choice
1 cup fresno chili (or Sambal Oelek sauce)
1 clove garlic peeled and smashed
2 tablespoons ginger peeled and sliced
4 limes, juice and zest
1 cup Tabasco® chipotle sauce
1/4 cup soy sauce
1/4 cup ketchup
1/4 cup rice wine vinegar
Salt and pepper
Chicken Wings
1⁄2 cup kosher salt
1⁄4 cup brown sugar
2 teaspoons chili flake
2 pounds all-natural free range chicken wings (trim wing tips)
1 gallon beef lard or suet, chicken schmaltz, duck fat, melted butter, vegetable shortening or a blend of listed lipids. No pork or bacon or BBQ fat. While we love the flavor they are too strong in this preparation and will take over.
PREPARATION
Sauce
In a blender, add peaches, chili, garlic, ginger, lime juice and zest, and Tabasco Chipotle Sauce. Purée until smooth and consistent.
Add salt, pepper, soy sauce, ketchup, vinegar and purée to combine. Adjust seasoning with vinegar, honey, Tabasco sauce and salt until desired balance of salty, sweet, tangy, spicy and smoky is achieved.
Store in refrigerator for up to 3 weeks.
Add a tablespoon of Zantham or thickener if that's your pantry (and just a touch of fish sauce goes a long way).
Chicken Wings
In a large bowl, thoroughly combine salt, sugar, and chili flakes.
Toss chicken in mixture, cover bowl and refrigerate for 24 to 48 hours.
Preheat oven to 300°F.
Place chicken in deep roasting pan and cover with fat.
Cook for two to three hours, or until meat begins to separate from bone.
Remove wings from lard and spread on resting rack on a cookie sheet to cool to room temp and then into the refrigerator.
Strain confit fat into medium container and reserve in fridge or freezer.
Start air fryer, turkey fryer or large stock pot of vegetable oil and heat to 400°F.
In batches, cook wings in lard until golden and crispy, approximately 4 to 5 minutes. Toss wings with chipotle peach wing sauce.
Go teams!